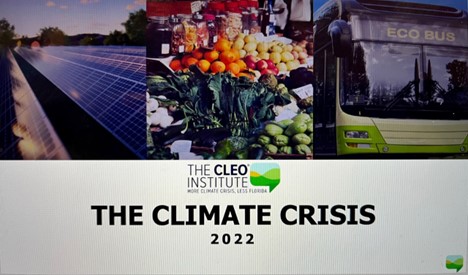 Last month, Flamingo Garden's Eco-teer Ines Rosales discussed Climate Change Impacts affecting the world and Florida specifically in Part 2 of the "Climate Change 101" as presented by the Eco-teers as part of their November 2022 Climate Fair. This month Eco-teer Karen Hendriks discusses how climate change impacts underserved communities disproportionately.
The climate crisis impacts the most vulnerable living in our community the hardest. Population growth increases resource demand and competition for food and water, which is disproportionately felt in developing countries. A Harvard Study predicts that by 2030, nine out of ten of the major crops in the world will experience reduced or stagnant rates, at least in part due to climate change, while average prices will increase dramatically as a result. Our most vulnerable communities will be least able to afford the increased prices.
People depend on nature to provide food and fresh water, regulate climate, prevent floods and disease. Climate change can fundamentally transform current ecosystems and food webs with possible consequences ranging from increased pest and disease outbreaks, reduced productivity in fisheries, and decreasing agricultural yields.
80% of ecological processes that form the foundation for life on Earth are already impacted. We are experiencing the worst wave of species die-offs in 65 million years with 1 MILLION species at risk of extinction within decades. Marginalized communities, notably in developing countries, are most at risk from the loss of biodiversity since they often rely directly on ecosystem goods and services.
The impacts of climate change include warming temperatures, changes in precipitation, increases in the frequency or intensity of some extreme weather events, and rising sea levels. These impacts threaten our health by affecting the food we eat, the water we drink, the air we breathe, and the weather we experience.
Extreme heat is the deadliest natural disaster in the United States, killing more people on average (about 600 per year) than hurricanes, lightning, tornadoes, earthquakes, and floods combined. By 2050 in South Florida, we can expect to live almost half of the year in what is considered "danger days" where it will be dangerous to work or play outside. Spencer Glendon, a senior fellow at the Woods Hole Research Center, which does climate science research, thinks most of Florida will be in the danger zone — defined as spells above 96 degrees when relative humidity is above 40% — 3 months of the year by 2040. According to Glendon, Disney World will be closed for long periods of time "because it won't be safe to take children there, and it certainly won't be safe to be in a fuzzy suit."
Extreme heat from climate change affects marginalized communities disproportionately. The US Department of Housing and Urban Development does not require A/C units in affordable public housing, and tenants cannot afford to purchase AC on their own. Likewise, the poor are less likely to afford the higher utility bills. People who rely on public transportation, walking, and biking are also more prone to be exposed to extreme heat.
To put it simply, not everyone experiences climate change the same. People who experience oppression are less likely to have general protections in our society. The largest polluters on the planet are also those who suffer the least from the dangers of climate change.
People who experience oppression because of race, income, gender identity, sexual orientation, disability, age, etc. are less likely to have general protections in our society, and even less likely to have access to resources to adapt to our changing climate or pass policies and legislation that are fair and culturally significant. Disenfranchised communities are on the frontlines of the climate crisis because they experience impacts first and worst.
To fully understand the impacts of the climate crisis it's important to understand that we don't all live the same way. The reality is that as our temperatures continue to rise, and the climate crisis impacts get worse, our most vulnerable living in our community will get hit the hardest. The climate crisis is a humanitarian issue. Understanding the difference between equality, equity, and justice are key in becoming an advocate for climate policies.
About the Author: Karen Hendriks is a Senior at Cypress Bay Highschool and a volunteer member of Flamingo Gardens' Eco-teers. Her blog Climate Change Impacts to Marginalized Communities is Part 3 of the "Climate Change 101" presentation by the Eco-teers as part of their November 2022 Climate Fair. Look for Part 4, Climate Change Mitigation and Adaption Solutions, to follow next month.